Exhibition @ LCB Depot Lightbox, Leicester LE1 1RE
Wednesday 1st June 2016 - Saturday 18th June 2016
@seancuttlefish / News on Facebook
Open Monday to Friday, 10am - 5pm
Open late Wednesday 1st June and Friday 10th June 2016
Open 12pm - 10pm Saturday 18th June 2016
Formed in 1977, Crass were the ultimate proponents of the DIY punk ethic. They ran their own record label, produced unique gatefold record covers and posters, spray-painted graffiti messages around London, distributed 'zines and booklets at gigs and were famous for their formidable live performances. Questions about the band were raised in parliament and they remained a thorn in the side of the establishment up to - and beyond - their break-up in 1984.
This exhibition includes records, posters, prints, videos, books and other items from Leicester-based digital artist Sean Clark's collection of Crass-related materials, built up over almost 20 years. Thought-provoking, confrontational, angry and beautiful in equal measures, the art of Crass remains as important now as it was almost four decades ago.
Events
Wed, 1 Jun 2016, 6pm - 10pm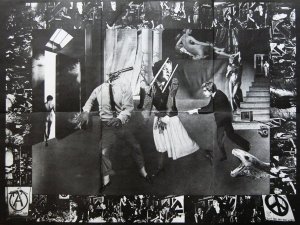 Entry FREE
Facebook Page
Join us between 6pm and 10pm on 1st June 2016 for the exhibition opening. There will be short talk by Sean Clark at 7pm followed by an introduction to Crass by Alastair Gordon from De Montfort University.
Fri, 10 Jun 2016, 8pm - 10pm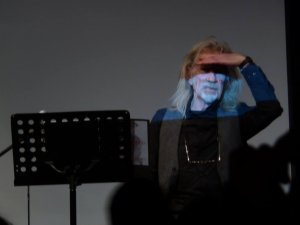 Entry £10. Buy Tickets Online (also from LCB reception)
Facebook Page
Penny Rimbaud (vocals, ex-Crass) and Louise Elliott (saxophone) present a lyrical re-working of Crass' seminal anti-war album 'Yes Sir, I Will'. The show will take place in the gallery and include video projections.
Sat, 18 Jun 2016, 1pm - 11pm
Daytime FREE. Evening £8. Buy Tickets Online (also from LCB reception)
Facebook Page
The last day of the Art of Crass Exhibition will provide an opportunity to participate in D.I.Y. arts activities. The evening will conclude with a performance from Steve Ignorant's (ex-Crass) band Slice of Life.
A full online catalogue of the items included in the exhibition - and many that are not - was launched on the exhibition opening night. The catalogue is being updated as new items are added to the collectio.