Social Media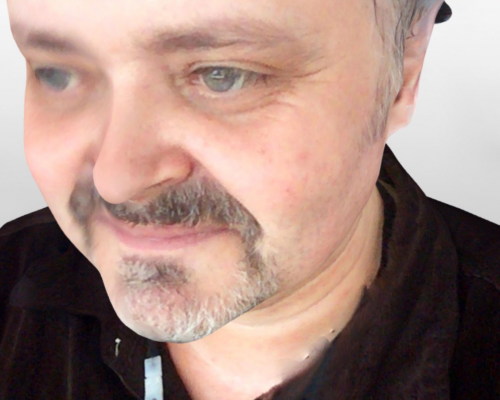 Dr Sean Clark is a Lumen Prize-winning artist, the Director of Leicester arts company Interact Digital Arts, the Curator of the Computer Arts Archive, the Founder of web/mobile developer Cuttlefish Multimedia, a Visiting Researcher at the Institute of Creative Technologies at De Montfort University in the UK and an International Professor at Guangdong University of Technology in China.
He has research interests in mobile multimedia, collaborative computing and the Internet of Things. In his artwork, he is inspired by systems theory, the nature of interactivity and creative explorations of flow, connectedness and communication.
Over a period of almost 30 years, he has had a varied career that has seen him work in the arts, academia and commerce, and he is comfortably able to move his focus between the three.
As a researcher, he has published over 30 research papers and has spoken at numerous conferences and seminars. He has an Honours Degree in Computer Studies from Loughborough University, a Masters in Digital Arts from Camberwell College of Arts, University of the Arts London and a practice-based PhD in Computational Art from De Montfort University.
He is a Fellow of the British Computer Society and active member of the Computer Arts Society. In 2015 he was shortlisted for a Talk Talk Digital Heroes Award for his education work. In 2016 he was the co-winner of the inaugural ArtCHI award in San Jose, CA and the Lumen Prize for 3D/Sculpture in London, UK. In 2019 he was selected to participate in the Mozilla Open Leaders programme to help develop his artThings open platform for inter-artwork communication.
My past project documentation is gradually being moved over to the Sean Clark Archive – together with a growing collection of my other archival materials. Many original project pages are still available here on here on www.seanclark.me.uk and on www.interactdigitalarts.uk. All of my current and future projects will now being documented on www.seanclark.org and the new Interact site at www.interactdigitalarts.uk.