Phoenix Digital 2008

In March 2008 The Phoenix in Leicester showcased the work of three digital artists as part of the run up to their eventual move to the new Digital Media Centre. Sean Clark is one of the artists featured as part of Phoenix Digital, together with Thomas Hall and Eric Rosoman.
About Sean Clark
Sean Clark creates digital 'art-systems' that explore the relationship between the viewer, the viewed and their environment. As part of Phoenix Digital he will be showing three pieces of work. Anonymising Webcamis an 'un-surveillance' system that automatically disguises the faces of the people being monitored. We Are Not Alone captures video footage of visitors to an empty room and plays the footage back to subsequent visitors. ArtScanner is an ongoing project that allows participants to upload pictures to a Web site and view them on a public screen via the scanning of barcodes. Information about all three pieces, including how you can contribute to ArtScanner can be found on his Web site at www.cuttlefish.org.
Anonymising Webcam
Most security systems aim to identify us. The Anonymising Webcam attempts to conceal the identity of the people on the screen, whilst simultaneously demonstrating the sophisticated face tracking capabilities of surveillance systems. For Phoenix Digital it will be located in the Phoenix reception area.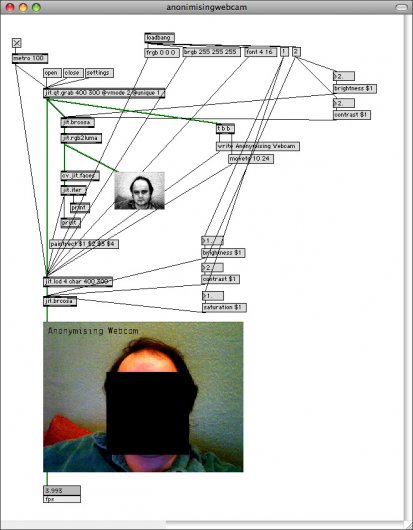 We Are Not Alone
We Are Not Alone creates a physical space in which prior interactions can be brought back to the present. The image on the screen is a composite of past and present and reminds us that the past is always with us, not just in our personal memories, but increasingly through the technologies we use. For Phoenix Digital the piece will be installed at The Phoenix on the 7th March and The Depot on 18th March.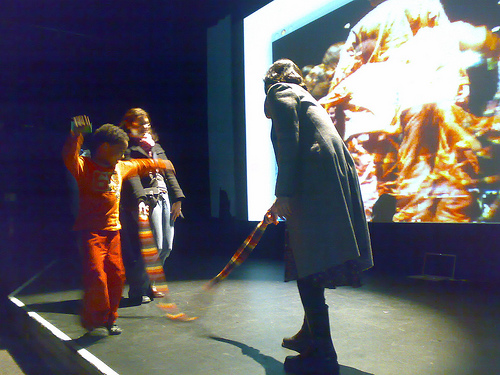 ArtScanner
ArtScanner (www.artscanner.org) allows people to upload images to a Web site and have them displayed in a gallery or exhibition space via the scanning of barcodes. The barcode acts as a gateway between the physical world and the world of computers. Seemingly innocuous, to some they symbolise a world where everything is categorised and our every move is 'blipped'.