Displaying results 1-10 of 256
The final bank holiday weekend of the summer is always a good one for festivals. For the last four years I've gone to Shambala but for a change this year we decided to go to the Blyth Power Ashes.
The Ashes is organised by folk-punk long-timers Blyth Power and features music from themselves and friends including Eastfield and Pog.
It made for a very different sort of weekend to Shambala. It is small festival (Shambala is small, but the Ashes is really small) with one stage and a single bar. It was still a really good event though, and only £15 a ticket...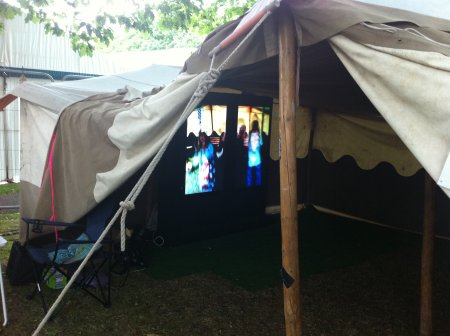 I've been involved in Leicester's annual Summer Sundae festival for a number of years, but this is the first time I've had my own "tent" there. In a rather nice bedouin tent I installed my Memory Mirror artwork for festival goers to visit. The artwork ran for the whole weekend and played host to many 100s of people. Pictures from the weekend can be seen on my Flickr Page and a video of visitors can be seen on YouTube.
A two hour video from the installation will be on show at The Interact Gallery from 5th September 2011.
Despite the threats posed by rioters, the Leicester Fringe went ahead again this year. There were various music and arts events around Leicester in the week running up to the main event - Fringe Thursday. Fringe Thursday sees bands playing at nine local music venues, with connecting buses from the Summer Sundae Festval site
Cuttlefish was one of the sponsors again this year and somehow I got roped in to sit on the door at Fabrika. The night started slow but definitely picked up towards the end with punters treated to a great night of music.
The final figures aren't in yet, but it looks like the festival should have done a good job of raising money for its three local charities - LOROS, Rainbows and Prostaid.
Dropsketch is almost here!
The Dropsketch iPhone app has been submitted to the Apple app store and I am now waiting for it to be approved. When it's ready you will be able to use it to "drop" sketches around your environment for other people to see. I will also be running it as an installation on a screen at Fabrika from this weekend. A link to the app for download will follow soon (hopefully).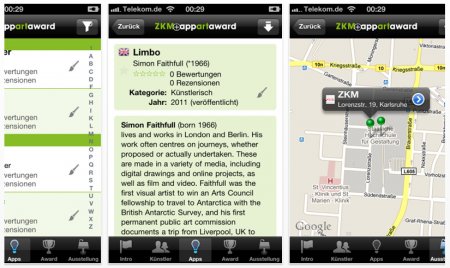 We're really chuffed that the "Limbo" app we developed for artist Simon Faithfull was shortlisted for for the ZKM Art App Award. It didn't win the main prize, but was selected to be exhibited at the prestigious digital art organisation.
It's also being featured in the ZKM Art App which is currently available from the App Store. In fact, it's actually shown on the app's page within the store :-)
You can visit Limbo on-line at limbo.simonfaithfull.org or download the App directly from the App Store.
The latest drawings uploaded to the app by Simon were made at the Womad Festival. They provide a fascinating view of the event.
Interact Gallery Progress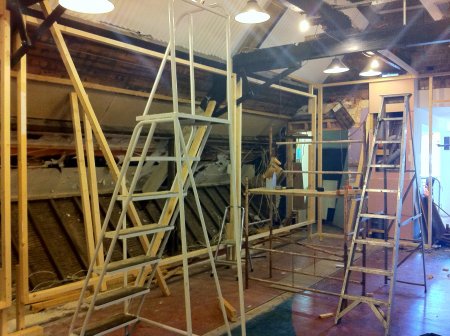 The Interact Gallery is starting to take shape. Adam at Fabrika has been refitting the gallery with false walls, a new ceiling, flooring and moor and I have been getting the computer equipment together.
It should all come together ready for our launch event on the 22nd August. See interactgallery.co.uk for details.
Memory Mirror - Final Week
Today marks the start of the final week of my Memory Mirror exhibition at Phoenix Square in Leicester. The interactive artwork seems to have gone down well sand has captured over 2,000 video clips of visitors. I'll work out how many visitors this represents, but it must be in the hundreds.
The next outing of this piece will be at the Summer Sundae Festival on 12/13/14th August. Then on the 22nd August there will be some new work of mine on show at The Interact Gallery.
See the Phoenix Square website for information about the exhibition.
Things are starting to come together with my next big project - The Interact Gallery. This will be a number of things. Firstly, it will be Leicester's first dedicated interactive and digital art gallery. It will be located upstairs at Fabrika, The Independent Art Centre on Humberstone Gate and will open in August 2011 with an exhibition of new work produced during my PhD. Secondly, it will be a curatorial organisation with the goal of finding the best digital art talent in the East Midlands and finding opportunities to show their work. More information will follow soon, for now though, if you want to know more get in touch or join the nascent Facebook group.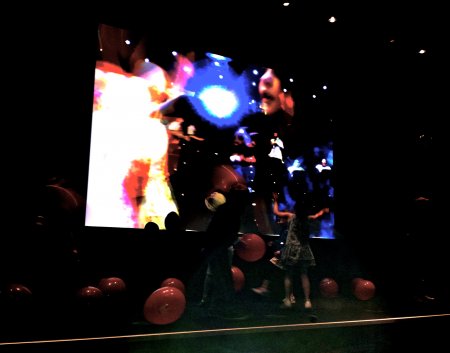 Sparking The Imagination is a digital arts event for kids running over the weekend of 11th and 12th June at Phoenix Square in Leicester. I was invited to contribute some work to it and used it as an opportunity to try out some of my work in progress.
In Screen 2 I installed a version of my "Active Mirror", which (in this case) overlays multiple live video loops to create a highly engaging and interactive video screen.
In the cafe area I set up a "Picture Wall". This is a version of my Dropsketch project which allows people to share drawings made on iOS devices. Kids were able to use the supplied iPods and iPad to make drawings and then "drop" them on the large screen by shaking the device.
Around the building I set up a QR Trail. Twelve QR codes placed around the downstairs could be scanned and a riddle was displaced. The answer to the riddle provided a clue to the secret word that could be used to get a treat from the Phoenix Square reception.
All three pieces worked well and the chance to test out some of this technology in front of an audience was most welcome. You'll see various bits of these pieces in my forthcoming exhibition at Fabrika in the autumn.
See a short video of Active Mirror on my YouTube channel. Pictures from the event on Flickr page. The feed of drawings uploaded by visitors is on blip.im.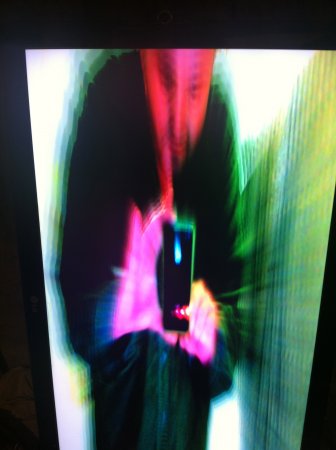 As part of the build-up to my autumn exhibition I've been looking for opportunities to test my new digital arts technology. For Speakeasy's "Visitor" Spark Festival show (with Movers) I set up two interactive pieces based on my current work.
The first was an implementation of one of my "active mirror" systems that allows viewers to interact with their own image via a video feedback loop. The second used face detection to grab video images of viewers and add them to a collage of flower heads. Both systems worked well and got good user feedback. They also performed well technically – although they did remind me of how important it is to get the lighting right in video-based systems like this.
One idea I've been considering to help with this is to develop active control of the brightness/contrast of the incoming video image before I feed it in to my art systems. This would allow the artworks to function better in varied lighting environments.
Displaying results 1-10 of 256
---