Stench VIII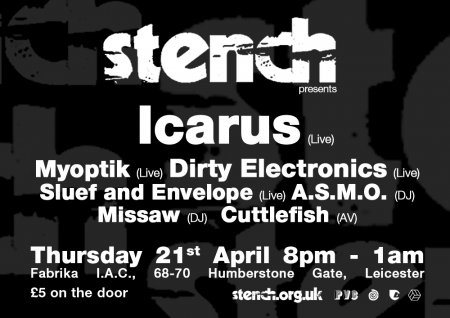 Thu 21st April, 2011 - 8am @ The Independent Arts Centre, Leicester
It is time for another killer line-up of mind-bending multimedia electronics at the Leicester Arts Organisation. The full line-up for the event is:
Icarus
Myoptik
Dirty Electronics Ensemble
Cuttlefish
Sluef and the Envelope
DJ Support from:
Asmo (Bathysphere.co.uk) and Missaw (TheCentrifuge.co.uk)
Thursday 21st April, Fabrika (The Independent Arts Organisation) 8pm to 1am. Tickets £5 available on the door.
Photographs