Stench VI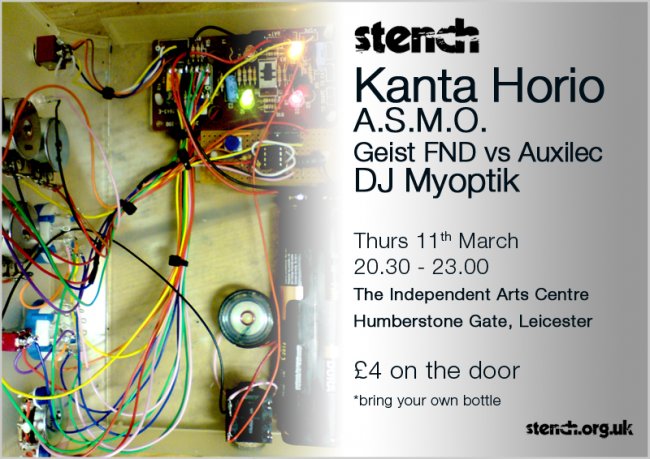 Thu 11th March, 2010 @ The Art Organisation
Kanta Horio

Kanta Horio studied acoustics and sound art at the Kyushu Institute of Design in Fukuoka, Japan. He presents audio performance using physical phenomena with electronic devices, kinetic objects, and assorted self-built gadgets. In recent presentations he has explored installations too. He has performed widely both internationally and throughout Japan. Alongside his performance activities, he organizes some unique events such as "dorkbot tokyo - people doing strange things with electricity".
He also works as a developer of electronic devices and develops the project with musical instrument company Yamaha.
http://kanta.but.jp/
A.S.M.O.
ASMO (Anti Social Musik Order) is the 'circuit bending' project of artist and musician Stu Smith. He works with self made instruments custom built from the modified circuits of electronic toys, keyboards and other discarded gadgets. His work explores the sonic landscape of 'circuit bent' instruments and their integration into existing modular synthesizer systems. He writes and performs with the groups Threep and The Buoys and has performed at concerts and festivals across the UK, Europe and New York.
http://asmo23.wordpress.com/
Geist FND vs Auxilec

a live improvisation in the vein of Raster Noton / Pan Sonic using a combination of diy electronics, live sampling and custom coding plus realtime visual effects in Jitter.
DJ Myoptik
http://www.myspace.com/myoptik
£4 on the door
note, there will be no bar, bring your own bottle
Photographs