Stench III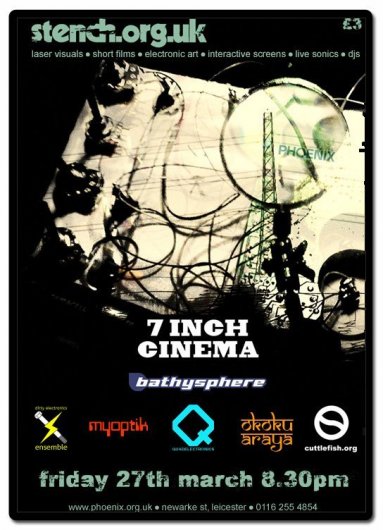 Fri 27th March, 2009 @ The Phoenix
STENCH returns with an audio-visual feast of ear and eye shaking, featuring 7inch Cinema, Cuttlefish, Myoptik, Bathysphere, Dirty Electronics Ensemble, Okoku Araya, Chris Conway's Quad Electronic and others. The Phoenix provides the setting for multiple screen and loudspeaker projections, electronic bleeps and laser visuals, with late bar and DJs.
STENCH is an artist-led forum that brings innovative and experimental performance in Leicester. Regular events bring together local and international artists with a focus on sonic art, improvisation, installations, interactive experiments, visualisations, new media art and exhibitions.
During the event STENCH will also be launching their new online community at stench.org.uk. Visit the site the week before the show to upload your content and see it on the foyer screens on the night.
Photographs