Derby University / Resonance 1993 - 1998
When my research supervisor Stephen Scrivener moved to the School of Art and Design at Derby University in 1993 I followed and began to divide my time between Derby and Loughborough Universities.
Whilst at Derby I started to meet many talented artists and designers and we began working on collaborative Internet-based projects. In late 1993 we created one of the first on-line art galleries in the UK. The Contact Gallery may not look as sophisticated as modern websites, but it worked and had many visitors.
In 1995 Geoff Broadway, Noel Douglas, Jayne Murray and myself then formed the Resonance digital arts group where we continued to work on innovative creative projects. These included running regular Internet events at the Oscillate Club in Birmingham, the Feed Your Head event on the 4th February 1995, a high-profile Cybercaff in the centre of Derby between 22nd and 24th September 1995, and a live Webcast from a Shamen gig at The Forum in Kentish Town on the 10th November 1995. This involved uploading pictures and holding chat sessions with fans - all over a 33.6K modem.
I used to believe I invented the term "webcast" to describe what we planned to do, but looking on Wikipedia I see the term was first used in the late 1980s (before the invention of the web!). Still, I like to think I helped popularise the usage of the word.
What follows is an incomplete record of our activities. I hope to be able to find more information about Feed Your Head, the Oscillate events/webcasts and Jayne Murray's Cyber Launderette at some point. Resonance often used the server dougal.derby.ac.uk to host its websites. While this server no longer exists, there may be archives of it out there.
In 1995 Derby University also supported me in establishing DRC Internet, a very early web design company. In the cases where we were paid to do Resonance work I was able to run the invoicing of these jobs through this business. Paid projects were normally hosted on the server www.drci.co.uk.
Web Archives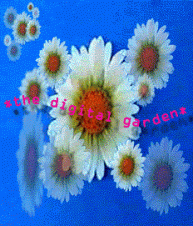 Contact Gallery

1993 - 1996. The web was very new when we put the Contact Gallery together. Geoff Broadway collected the artworks, I helped put the website together first by hand-coding the HTML and later using Claris Homepage.

LiveWire Exhibition

1995, Design Research Centre, Britannia Mill, Derby University. An early on-line/off-line art exhibition curated by Geoff Broadway.
The Cybercaff

22nd - 24th September 1995, Derby Assembly Rooms. Resonance ran this event to introduce people to the potential of the Internet. We were joined by Birmingham's Oscillate crew, who provided music and visuals.

Headfirst

2nd - 3rd May 1996, Britannia Mill, Derby University. A follow-up to 1995's Feed Your Head event, organised by Geoff Broadway.
Written Material