27 Exhibition @ Gallery Without Walls
Mon, 02 Jul 2018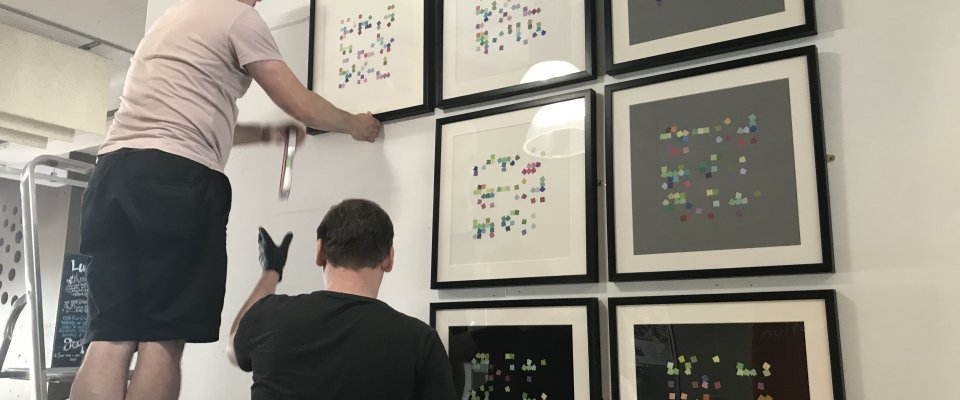 My latest collection of computer-generated artworks, called "27", was premiered at the LCB Depot as part of the Gallery Without Walls project on Saturday. This represents the coming together of two projects.
Firstly, the exhibition itself is the completion of a work cycle that started with two works that were part of the Resonance exhibition with Esther Rolinson in Leicester last December, then became part of the East Meets West exhibition in Guangzhou, China in April and is now a stand-alone exhibition in its own right.
27 is based around my self-organising visual systems. The main building blocks of the piece are groups of three connected grids that grow together by exchanging colours and sorting them according to pre-defined rules. After the grids have been running for a while, I capture an image and then combine the images to form larger images. These larger images are then arranged according to additional rules.
The result is a system of patterns-within-patterns where the "parts" make "wholes" that then become parts in larger wholes and so on. In the case of this exhibition, nine locations around Leicester each have three images, which are each composed of three connected grids, which are each composed of 25 colours.
The locations selected to show the work are part of Gallery Without Walls. This is a project I've been working on with Graff.io Arts for over a year now. We have been building a network of venues around Leicester where we can show artists' work as part of "distributed exhibitions". 27 is the third show we've put together, hence my exhibition is also known as GWW03.
It's great when two projects meet like this. It's also very satisfying for me to complete this creative project in this way. Graff.io Arts are expert printers, and the work looks excellent. It will be popping up at the various venues around Leicester shortly.
For more information, visit http://gallerywithoutwalls.uk/gww03.
The work will be on display until the end of August when GWW04 will take over. More details on this to follow.