Interact 2014 @ LCB Depot / 2014
2nd September - 10th October 2014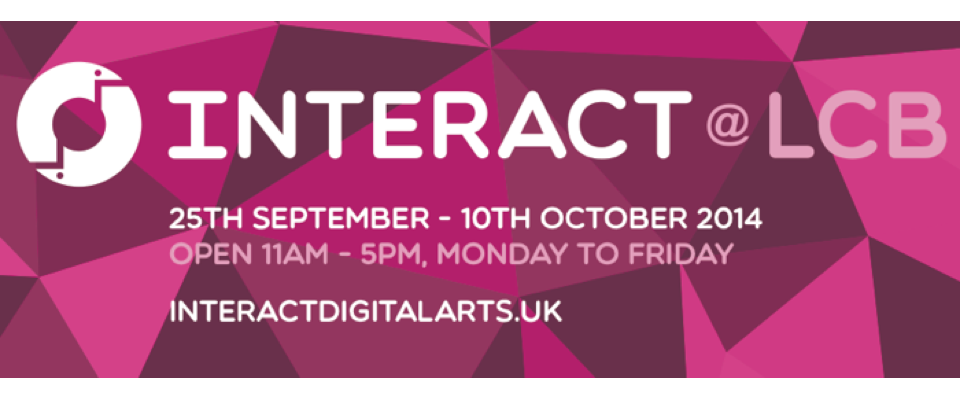 Introduction
The term digital art may in some ways already seem out-dated. In a world where almost everything involves the use of a computer, what is special about art that uses digital technology? From graphic design and image making, to film making and music, the computer is now as much a part of the artist's studio as the pencil, paintbrush or film camera ever were. Is all art now digital?
In this exhibition we aim to demonstrate that the use of digital technology in art can go beyond simply being a passive tool for the production of artwork. We hope that you will see how artists are able to use the unique properties of digital technology to create new and thought provoking artworks that are engaging and thought provoking.
We start with the computationally driven images of Ernest Edmonds and Paul Brown, and the interactive work of Genetic Moo, Jackie Calderwood and myself, where the computer is actively involved in enabling the artists to explore new ideas and forms.
Then, media artist Geoff Broadway uses digital video to present a rich and moving narrative based upon the perceptions of a range of people who live and work in the former mining town of Coalville, Leicestershire.
The creative work of local artist and musician A.S.M.O. directly engages with technology (not always digital) through the use of recycled and custom made electronic circuitry. FACT:ion have a different take on technology, with an installation that explores the traditions of power structures, media, and consumerism.
Finally, Creative Manifesto present their current prototype for a large LED screen that will provide an impressive canvas for the work of local visual artists and animators.
In parallel with the exhibition, we are partnering with Interact Labs and Leicester Hackspace to run a series of workshops introducing some new digital technologies. 3D Printing, Virtual Reality and the Internet of Things promise to offer even more creative possibilities for artists.
The exhibition will close on October 10th with an Interact Live music and media event at LCB Depot that will showcase some of Leicester's best electronic music and live multimedia artists. There will also be an opportunity to show your own work with a Bring Your Own Beamer in the courtyard.
Sean Clark
Exhibition Curator
www.interactdigitalarts.uk
Brochure
Exhibition
1. Ernest Edmonds - "Shaping Forms"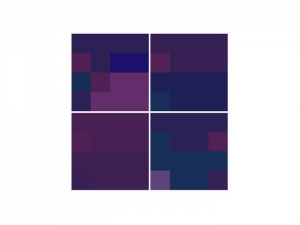 Ernest Edmonds. Professor of Computational Art at De Montfort University, lives and works in Hathersage, UK and Sydney, Australia. He trained in Mathematics, Philosophy and Logic. His art explores colour, time and interaction in the context of colour field painting and systems art. This exhibition provides a rare opportunity to see related artworks from 1980 to 2014 together.
Ernest Edmonds
www.ernestedmonds.com
2. Paul Brown - "Dragon"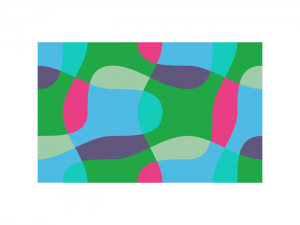 Paul Brown is an artist and writer who has specialised in art, science & technology since the late 1960s and in computational & generative art since the mid 1970s. Paul has been an invited speaker in Leicester on a number of occasions, both at De Montfort University and as part of theComputer Arts Society seminar programme at Phoenix.
Paul Brown
www.paul-brown.com
3. Sean Clark - "art.systems/1"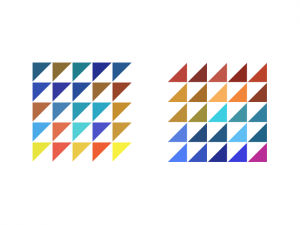 System 1 is Sean Clark's current cycle of 'connected artworks'. It consists of multiple systems-based digital artworks that are designed to interact with each other and their viewers, as well as high quality prints and sound and light installations. The key themes of the artworks are interactivity, flow and connectedness. A digital and print piece are being shown at this exhibition.
Sean Clark
www.seanclark.me.uk
4. Genetic Moo - "It's Alive!"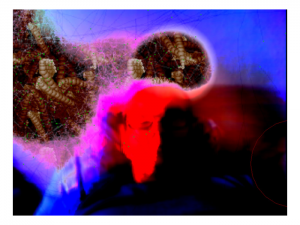 It's Alive! sees two populations of parasites and a screen image combine into a 'living interface'. The webcam looks out into the space and slowly builds up a image of what it sees - this then 'feeds' the virtual 'maggots' and 'ants'. Both disturbing and beautiful, this artwork continues the style of work Genetic Moo first exhibited as part of Symbiotic in Leicester in 2012.
Genetic Moo
www.geneticmoo.com
5. Jackie Calderwood - "Two Trees"
Jackie Calderwood is a media artist and practice-based doctoral researcher with the Institute of Creative Technologies at De Montfort University. Jackie's research explores the potential of pervasive media arts to enhance holistic experience in relation with landscape. Two Trees is an experimental process of notation, in which Jackie used the Hunter Gatherer app to record her visits to Fosse Park Recreation Ground in Leicester and her 'meetings' with two particular trees within the park.
Jackie Calderwood
www.jackiecalderwood.com
6. Sean Clark - "Memory Mirror"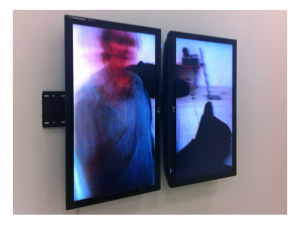 Sean Clark's Memory Mirror interactive video artwork was first exhibited in Leicester in thePhoenix and Interact galleries. As it collects images through this exhibition it will construct a complex and engaging moving collage of visitors to the LightBox. A video of the collage will be published on the Interact website after the exhibition.
Sean Clark
www.seanclark.me.uk
7. Geoff Broadway - "Lifecycle"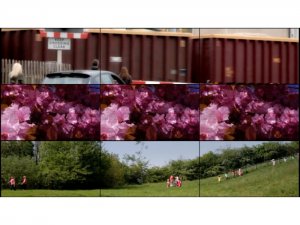 LifeCycle by Geoff Broadway is a multi-screen video piece that explores ideas of change and transformation as it is understood and experienced by a range of people who live and work in the Coalville area of Leicestershire. LifeCycle was originally developed as an installation and have been adapted as single screen work for this exhibition.
Geoff Broadway
www.intentional.co.uk
8. A.S.M.O. - "Harmonic Dissonance"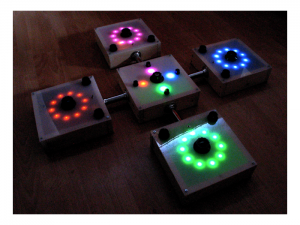 Leicester-based A.S.M.O. (Stu Smith) creates musical instruments out of discarded electronic toys and custom circuits. Harmonic Dissonance is an audiovisual artwork that allows the operator to create their own interactive soundscape. A.S.M.O. will be performing with the piece at the live event on October 10th 2014.
A.S.M.O.
asmo23.wordpress.com
9. FACT:ion Presents - "The Television Will Not Be Revolutionised"
The Television Will Not Be Revolutionised is an installation that explores the traditions of power structures, media, and consumerism. Previously developed as part of Two Queens Gallery members show in 2013. FACT:ion on this occasion are CitiZen bXtr (www.citizen-bxtr.com), sheWicked (www.shewicked.com) and The Little Person (thelitlperson.blogspot.co.uk).
FACT:ion
https://www.facebook.com/groups/453173931366913
10. Creative Manifesto - "Video Wall"
Leicester arts group Creative Manifesto present their prototype for large LED installation which is currently being developed as part of 'Light The Night' which will take over the cultural quarter in November 2014. This prototype represents just a small part of a large LED wall, that will be used as a canvas for animation created by Leicester based artists and the general public. The wall is currently being built by Creative Manifesto and Interact Labs.
Creative Manifesto
www.creativemanifesto.org
Pictures
Pictures from the opening event on 25th September 2014.
Pictures taken throughout the exhibition showing the range of artworks on display.
Pictures from the closing event on 10th October 2014.
Supported By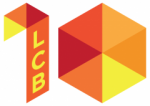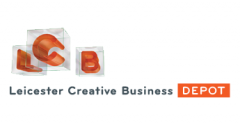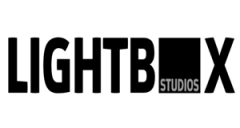 Thanks
Many thanks to Julia Hamer for supporting this exhibition as part of the 10 year anniversary of the opening of the LCB Depot; to Louise Holland and her team at Lightbox for providing such a great exhibition space; Shaun Taylor for graphic design and print; and to to Darren Baxter, Helena McLeod and Jack Squires for their support with the planning and installation of the exhibition.