Innovation Connections: East Meets West
An Exhibition of Digital Work by Artists from the UK, China, Australia and New Zealand

29th November 2018 - 20th December 2018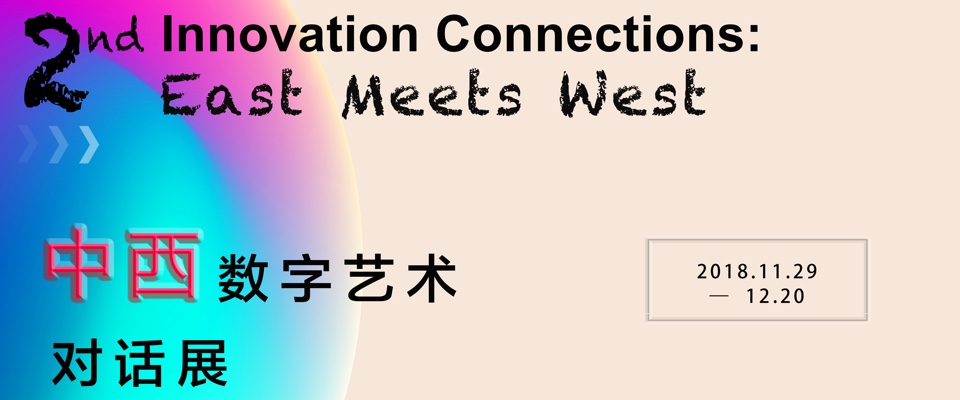 Exhibition
729 Art Cafe
School of Art and Design
Dongfeng Road Campus
Guangdong University of Technology
CHINA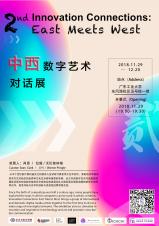 Innovation Connections: East Meets West is the second in a series of digital art exhibitions hosted by the School of Art and Design at Guangdong University of Technology in Guangzhou, China.
Since the birth of computing over half a century, many people have explored the ways in which computers can be used in artistic creation. Innovations Connections: East Meets West brings a group of international and domestic digital media artists together for the first time to show a wide range of new digital artworks. The exhibition aims to stimulate innovation and inspiration in technology and art and promote cross-border communication.
The exhibition is running in parallel with Interact'18 in Leicester, UK.
Organised by the Yi Ji of the FE Art Lab at Guangdong University of Technology and Sean Clark from the Institute of Creative Technologies at De Montfort University.
Catalogue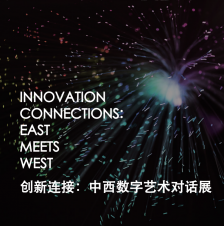 Artworks
1. Janine Randerson (NZ)
Janine Randerson is an artist and writer based in Auckland, New Zealand. A thread in Janine's work is the technological mediation in ecological systems. She has collaborated with with urban meteorologists at the University of Auckland, satellite meteorologists at the Bureau of Meteorology (Australia) and climatologists the National Institute of Environmental Research (Denmark).
Her forthcoming book "Weather as Media: Towards a Meteorological Art" will be published with MIT Press in Fall, 2018. She is currently the PhD programme co-leader in the School of Art and Design at AUT University, Auckland. She has a PhD in media and communications from the University of Melbourne.
3. Chen Chen (NZ/China) - Towards a Late Evening I & II
These two film poems by Chen Chen reflect a cross-cultural contextualization of research into film poetry as a genre. Taking place within a gap between Chinese and Western cultural framings of short film-poems, these films are formed using Xiang (a philosophical and aesthetic system adapted from Tang dynasty Chinese poetry) as a methodological approach and visual strategy to create the essence of Menglong (the amorphous).
The films show a delicate restraint of interiors and exteriors, while the system of Xiang is also from a distinctly Chinese perspective. As part of her PhD research, Chen states "...different Xiangs may not have direct logical relations with each other in one work, but may contribute to the emotional flow of one feeling to another throughout the complete poetic text."
These films with their subjectivities embody a visual and thematic connection through disconnection and a resulting amorphous, changeable form.
5. Sean Clark (UK) - Four Circles
Sean Clark is an artist, researcher and technologist with an interest in systems theory and connected digital art. The work on display in this exhibition is a print taken from the digital work Haze which contains four interacting images composed of concentric circles that exchange colours as they "breath" inward and outward. Sean is a Visiting Research Fellow at De Montfort University and an International Professor at GuangDong University of Technology. He is also the founding director of web/app company Cuttlefish Multimedia Ltd and digital arts company Interact Digital Arts Ltd. In 2016 he was the co-winner of the Lumen Prize for 3D/Sculpture in London and the inaugural ArtCHI Award in San Jose, California.
Digital Print: Four Circles (2017)
7. Andrew Johnston (UK)
Audio reactive visuals made using Max/MSP and Jitter. The 3D space shifts dramatically utilising dynamic camera angles and audio driven movement to provoke a visual response in real time.
Digital Prints and Live Performance: Experiments in Virtual Space (2018)
9. Yi Ji (China/Aus)
Dr. YI JI has been working in area of interactive art and personalized interaction design more than twelve years. In 2015, he obtained his doctorate degree in human computer interaction design at University of Technology Sydney. He has been committed to promoting cultural exchanges and cooperation between China and Australia. He is a board member of Australia China Science and Technology Association committee. In 2014, he was named as 100 Young Innovative Leader of Chinese by the Hong Kong Dragon Foundation. He has many international invention patents and hosts a national research project. One of his projects has been selected in the Australian Millennium Project. As an international new media artist and curator, his works have been exhibited in many countries and international conference including Sydney international design festival top conference SIGGRAPH 2018. Additionally, as an international curator, he has planned a number of international new media exhibitions, including: Microsoft Interactive Art Exhibition, OZ CHI multimedia exhibition, Chinese and Western Digital Art dialogue exhibition, and Seventh Space Interactive Art Exhibition.
11. Qiang Chen (China) - Multiple Dreams
Since 2010, I have found that I have some problems with my breathing. I can't sleep deeply, especially in winter. I will do a lot of strange dreams. These dreams are especially true in my dreams. Later I found that I have been in Chengdu for too long. I have got chronic pharyngitis. Environmental problems lead to the disease of my body, sleep begins to snoring and gradually worsens, the doctor said that this is the phenomenon of people in the city!
I made these dreams into various works! Some are images, some are installations, and others are written as literary works. No matter how these dreams are complementary to my space!
"The Old Man Recalls Poetic Life"
This is a long dream in the dream of dreaming. The father who dreams of getting sick walks his mind in the middle of a human sculpture and recalls the past of his life. Dreams, sometimes some sad spectators, and these sad feelings will wake up after awakening.
2. Gregory Bennett (NZ)
Gregory Bennett is currently the director of the Department of Digital Design and the Department of Visual Arts in the School of Art and Design at AUT University, Auckland.
Gregory is an international digital artist. His artistic background is mainly in digital art practice and film post production. His teaching and research fields include digital design, three-dimensional animation, visual effects, dynamic capture and Virtual Reality. As the director of Dynamic Capture Laboratory at AUT, he developed the first dynamic capture course at the University. He is one of the directors of the Virtual Reality Laboratory of AUT University. At present, he is mainly responsible for teaching and research into Virtual Reality.
4. Miriam Harris (Aus/NZ)
6. Ernest Edmonds (UK/Aus) - Dazzle
Ernest Edmonds was born in London in 1942. He now lives and works in central England and in Sydney, Australia. In 2017 he was awarded the ACM SIGGRAPH Distinguished Artist Award for Lifetime Achievement In Digital Art and the ACM SIGCHI 2017 Lifetime Achievement Award for the Practice of Computer Human Interaction. He is Professor of Computational Art at De Montfort University. Routledge have just published "Generative Systems Art: the work of Ernest Edmonds" by Francesca Franco. Ernest Edmonds' own latest book is "The Art of Interaction: What HCI Can Learn from Interactive Art", Morgan&Claypool.
Digital Print: Dazzle (2018)
8. Fabrizio Poltronieri
Fabrizio Augusto Poltronieri (São Paulo, 1976) is an award-winning computer artist, designer, researcher and curator with a special interest in the relationships between Art, Design, Digital Media, and Technology. His expertise lies in the development of creative coding and its exchanges with philosophical questions.
Two of his artworks from the 'Visual Theogonies' series (Dionysus and Calliope) are in the V&A's – Victoria and Albert Museum – collection, in London, UK.
Fabrizio is a permanent member of the IOCT (Institute of Creative Technologies) at De Montfort University, Leicester, UK. He is currently researching Creativity & Artificial Intelligence, applying machine and deep learning techniques to the production and design of narratives, moving images and objects.
"my ai self #02" (2018) is part of a series of self-portraits generated using deep learning, artificial intelligence, techniques.
Digital Print: my ai self #02 (2018)
10. The Pailou Gate
The Pailou Gate project is an ongoing piece of work to model in Virtual Reality the 400-year-old Ming Dynasty ceremonial gate located in the courtyard of the library building on the Dongfeng Road campus. The latest work will be shown, featuring additional objects and photographs.
interactdigitalarts.uk/pailougate
12. Xiaoying Tang and Students (China)
Tang Xiaoying graduated from the Academy of Fine Arts of Tsinghua University in 2000 with a Bachelor of Arts degree. She graduated from Hubei University of Technology in 2006 with a master's degree in design art. In 2012, she graduated from Huazhong University of Science and Technology with a doctorate in communication. She is currently the Deputy Dean and Professor of the School of Art and Design of Guangdong University of Technology.
Xue Yisi: Female, second year of grad school, major in digital media, studying in School of Art and Design, GDUT.
Deng Yarong: Female, second year of grad school, major in digital media, studying in School of Art and Design, GDUT.
Liang Junming: Male, first year of grad school, major in traditional Chinese painting, studying in School of Art and Design, GDUT.
Photographs - Workshops
Photographs - Exhibition