CAS50 Collection Exhibition 2019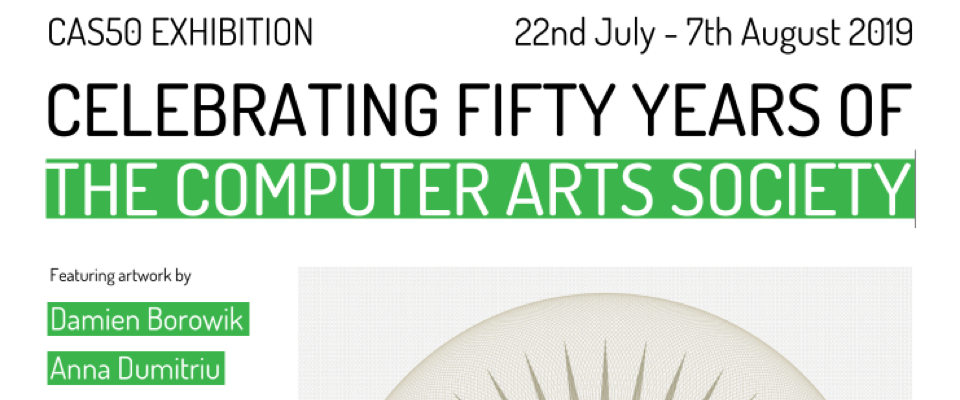 22nd July - 7th August 2019
LCB Depot, 31 Rutland St, Leicester, LE1 1RE
The Computer Arts Society was established in the UK in 1968 and pioneered the development of digital arts worldwide. In our second CAS50 exhibition, we continue to celebrate 50 years since the founding of the Society.
The exhibition features artwork by Damien Borowik, Anna Dumitriu, Genetic Moo, Gibson/Martelli, Alex May, Gordana Novaković, Fabrizio Poltronieri, Esther Rolinson, Roger Saunders, Brian Reffin Smith, Jack Tait and Patrick Tresset. There are also two works by Harold Cohen.
All work is part of the CAS50 Collection.
Events
Monday 22nd July 2019 18:00 - 21:00
Exhibition Opening
Opportunity to see the exhibition and meet the curator.
https://www.facebook.com/events/374847573124039/
https://www.eventbrite.co.uk/e/cas50-collection-exhibition-opening-tickets-64340018728

Friday 26th July 2019 18:00 - 22:30
Interact Live
To celebrate the opening of the CAS50 Collection 2019 exhibition, we are organising an evening of live multimedia performances by Leicester artists and musicians. The full line-up and details will be posted soon. The event coincides with LCB Depot's Last Friday food night.
https://www.facebook.com/events/421543018664168/
https://www.eventbrite.co.uk/e/interact-live-at-last-friday-tickets-64341245397

Poster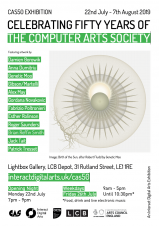 Exhibition Photographs
Interact Live Photographs
Supported by Arts Council England.