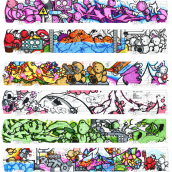 CUTE is from London and started writing his name on walls and trains in 1988. Going to school in Nottingham, he was heavily influenced by the work of POPZ100, CRASE, ALERT, SHOK1 and PULSE. He also associated with the AMP Syndicate who gave him his first real taste of proper graffiti.
He trained at the Royal Academy of Dramatic Art in London in the early 1990s and quickly made a move into fine art, having his first solo show at Stratford's Royal Shakespeare Company theatre. After more than a decade of figurative fine art and cartooning, CUTE decided to tentatively return to graffiti in 2004.
His recognizably cartoony style In 2012 he co-launched his first graf jam with WhoArtNow at the Strawberry Fields Festival in Leicestershire, boasting the talents of NOIR, HUSH, GNASHER, BLAVOE and BRAVE1. His work is published in several books including 'Street Soul Sketches', 'Stickerbomb 2', 'Bonzai vs Cute' and the 'MONOKROME' books.
He has also exhibited in many group shows and will be exhibiting at the Creative Debuts x Trapped in Zone One 'Summer Showcase' in London's Shoreditch in summer 2017. His corporate clients have included the Royal Shakespeare Company, Interbrand plc and Amnesty International and his high profile clientele include Tom Hardy, Laurence Fox and Rebecca Ferguson.