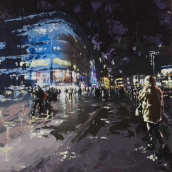 Figurative paintings by Alice Mann represent urban environments with a heavy focus on cities, creating an atmosphere where the viewer can become immersed within the work. London is an area that is often depicted within Mann's paintings as this is an area of significant influence to her practice. This metropolis offers a maze of structures and movement with the hustle and bustle of city life.
The glass windows and buildings reflect with the neon lights from passing traffic and billboards as well as the shimmers of passers-by. To achieve this, Mann works as a varied scale representing reflection and movement, combined with interesting viewpoints, achieved using both photography and painterly combined responses.
Layers, depth and perspective are important in order to pull in the viewer's gaze. To do this Mann applied acrylic paint using a variety of palette knives in order to produce different textures, which help to represent depth within the paintings. Part of the painting is a photo taken by Mann herself. This gives the work a focal point with the textural marks of paint bringing the images to life.
It is in these busy urban environments that Mann feels most inspired and energetic, enabling her to produce ideas responding to atmosphere; with the aim to reflect upon her own experiences in the hope that the audience will gain a sense of the bustling scenes being shown.