A Brief History of Cuttlefish.Com
I registered the domain name cuttlefish.com on the 26th June 1997 for use used as the 'home page' for my arts and music projects. I'd been using the name Sean Cuttlefish for a number of years, so it seemed to make sense to use it for my domain. Soon after registering the .com, I registered cuttlefish.org and cuttlefish.net to complete the set.
So why cuttlefish? This is something I've been regularly asked about for almost 30 years. It came from two sources. Firstly, I had always been fascinated by the cuttlebones that I found on the beach in Selsey as a child. They were used as scratching posts for caged birds and I used to collect loads of them - far more than could be used by our single budgerigar. I've liked the word ever since. Secondly, in the early 1990s, I seemed to have a surprising number of conversations about the cuttlefish animal itself. With their sophisticated eyes, blue-green blood and high intelligence, cuttlefishes seemed almost alien-like. Plus, of course, they have colour-changing skin that they can use to communicate and express emotion. This was very psychedelic, and the early-1990s were very psychedelic times,
Later, when cuttlefish.com became the online home of my business, I found that the name was a great conversation starter with clients and that the cuttlefish attributes of being fast, intelligent, colourful and responsive became good values to be associated with.
What follows is a history of the cuttlefish.com website and by extension a history of the Cuttlefish business. It is undoubtedly incomplete, but the pictures still capture the changing face of web design over the last 25 years.
1998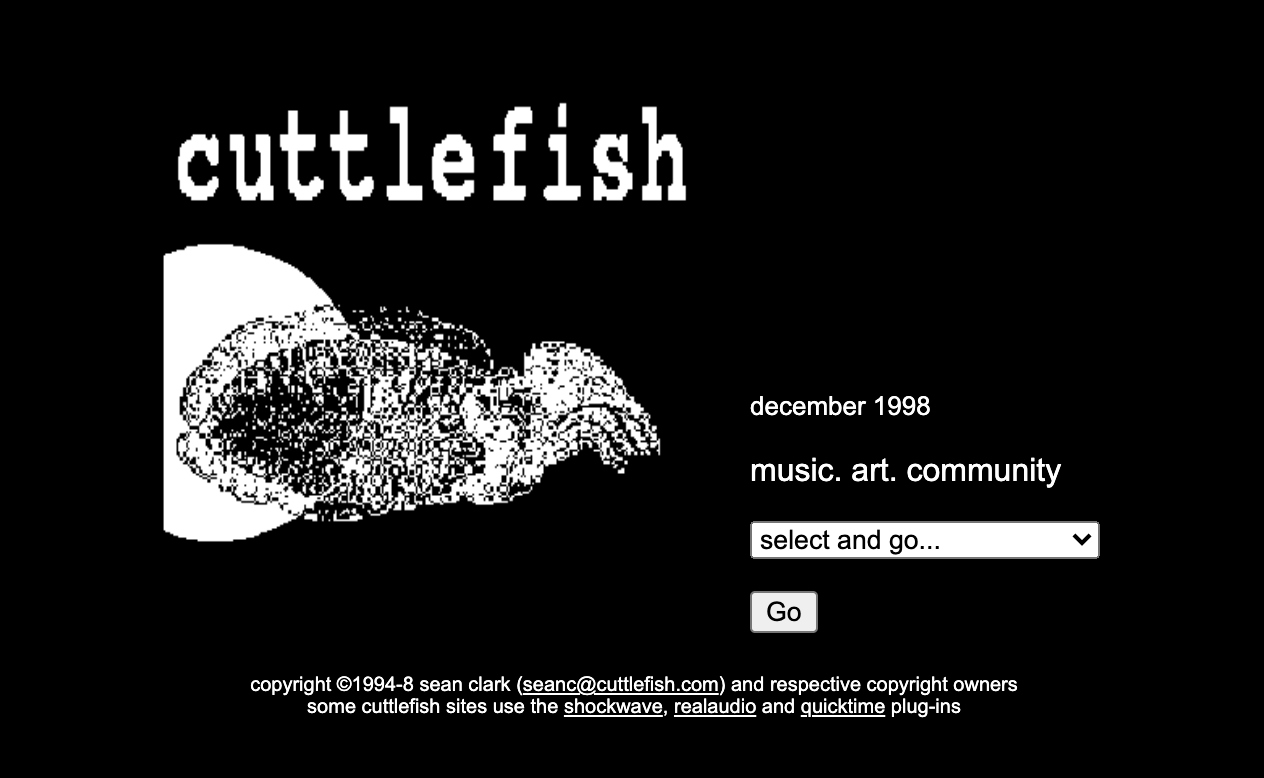 This screen-grab of the very early cuttlefish.com website uses a pop-up menu for navigation, so you can't see what I was doing at the time. However, I do have a functional version of the page in my archive which lists The Shamen's Nemeton website, the Left Legged Pineapple record shop, Headphone Records, Universal Egg Records and an art project called Snailbait. Everything was hosted on a dedicated web server.
2001
Towards the end of 2000, I left my commercial web design job to focus purely on the kinds of projects that interested me. In effect, I turned cuttlefish.com in to my day job and began developing websites and CD-ROMs based around my "music, arts and community" interests. I initially based myself at the Charnwood Arts offices in Loughborough. I developed lots of early projects with Charnwood Arts, including the ClickIt! Photography CD-ROM and website, and The webWorks Gallery. These were both user-generated-content sites. I also developed a website for Loughborough MP Andy Reed, an enhanced e-commerce site for local record shop the Left Legged Pineapple and many other art projects, some paid for, some for free.
I also spent a lot of effort developing my 'big idea' at the time - a web system that would allow people to easily manage their own websites - what is now known as a Content Management System. This had been rejected as 'bad business' by my previous employer because it would mean clients could update their websites too easily, without paying for the privilege! But it was clearly the future.
This new cuttlefish.com website included the "cuttlefish eye" logo. The logo almost designed itself. The cuttlefish has a very distinctive "w" pupil in its eye, I started with that and flattened out the "w" shape a bit because I thought it would confuse people, and I gave the resulting shape a bit of a yin and yang feel. The essence of this logo design lives on in the Interact Logo that appeared on the final page of my PhD Thesis in 2018.
2002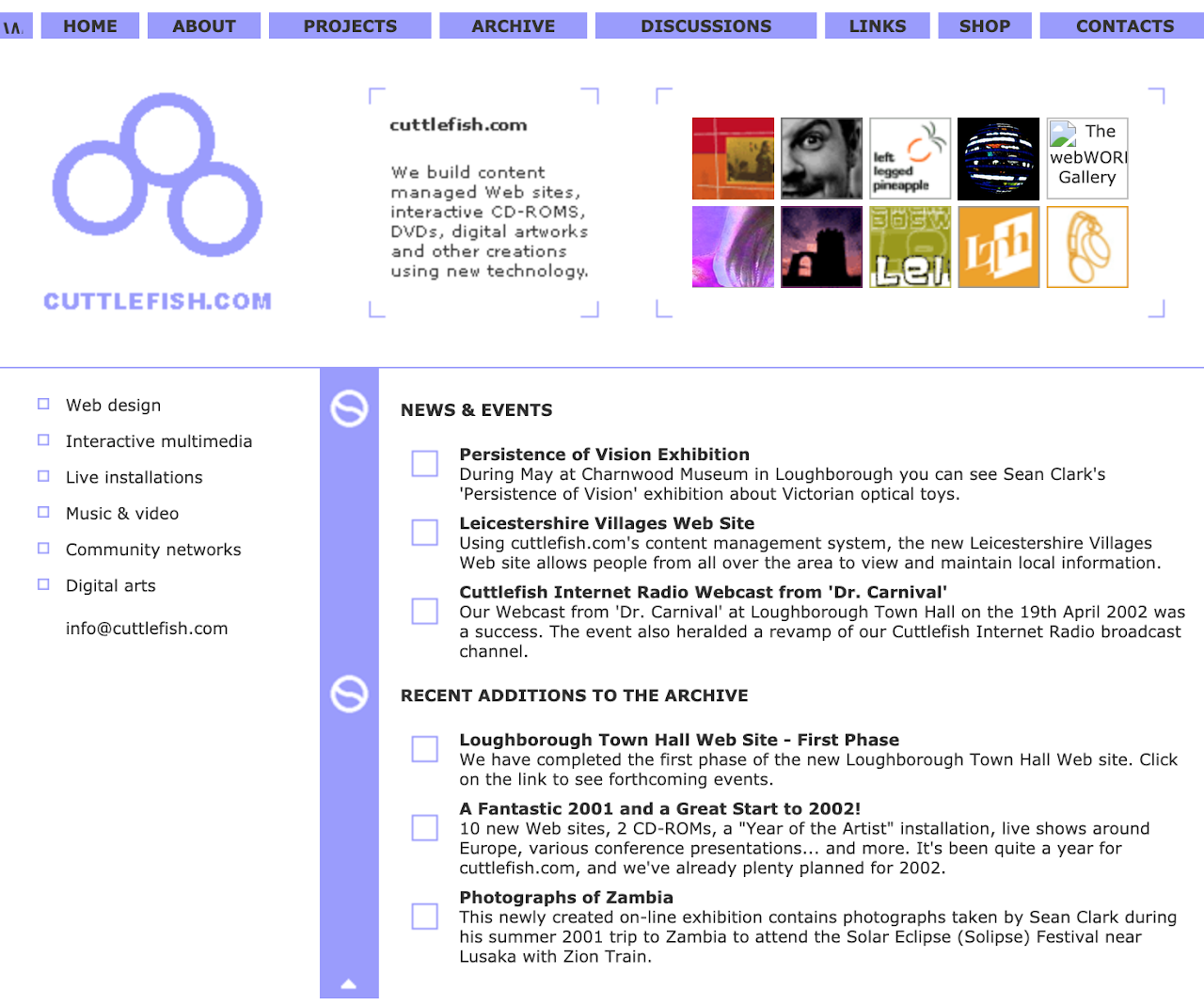 This screen-grab shows Cuttlefish taking off as a business, I was still doing lots of arts projects, but the idea of the content managed website had taken off and we were creating commercial websites for clients that included Loughborough Town Hall, Leicestershire Villages and Leicestershire County Council as well as Charnwood Arts.
In this design, I replaced the main cuttlefish eye with a new logo based on the imprint of giant squid suckers I saw on a picture of a sperm whale. We also moved to a new office that, like the website, was decorated in the first shade of 'Cuttlefish Blue'.
2005
This cuttlefish.com design introduced a photograph of two cuttlefish that I had licensed directly from the photographer. The image ended up on lots of things, including cuttlefish.com mugs, and I particularly liked the blues in it. The graphic design is notable for the return of the cuttlefish eye logo. The company was going well, with new employees, a bigger office and clients including Charnwood Borough Council, David Wilson Homes (an FTSE 100 company at the time) and more projects from Leicestershire County Council. This was despite the fact I was operating it as a sole trader. A lot of the success of the business was down to its in-house content management system, now called communityPortals, aka cPortals.
2007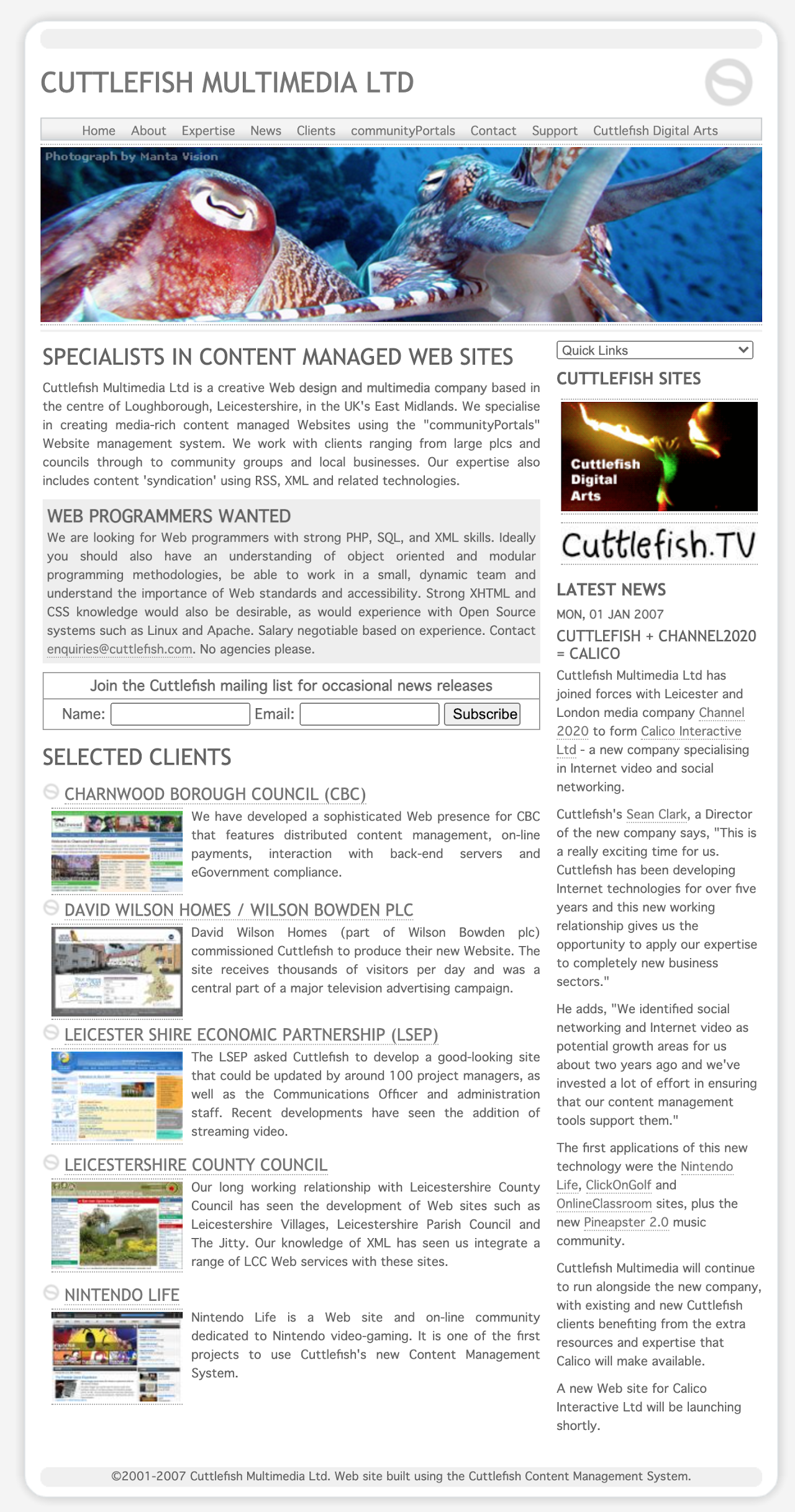 Although not radically different in terms of web design, by this time cuttlefish.com had become Cuttlefish Multimedia Ltd with the first two employees becoming co-Directors. The less-commercial arts work was spun out under the name Cuttlefish Digital Arts (using the cuttlefish.org domain name). Business-wise, we had become the go-to company for local authority websites in Leicestershire and had many such projects on the go.
Co-Director Anthony Dickens' personal Nintendo Life project was also developing rapidly. This would later become a very successful business in its own right. The screen-grab above is also noticeable for the announcement of Calico Interactive Ltd. This was a joint venture with Leicester company Channel 2020 that we ran for a couple of years.
2010/11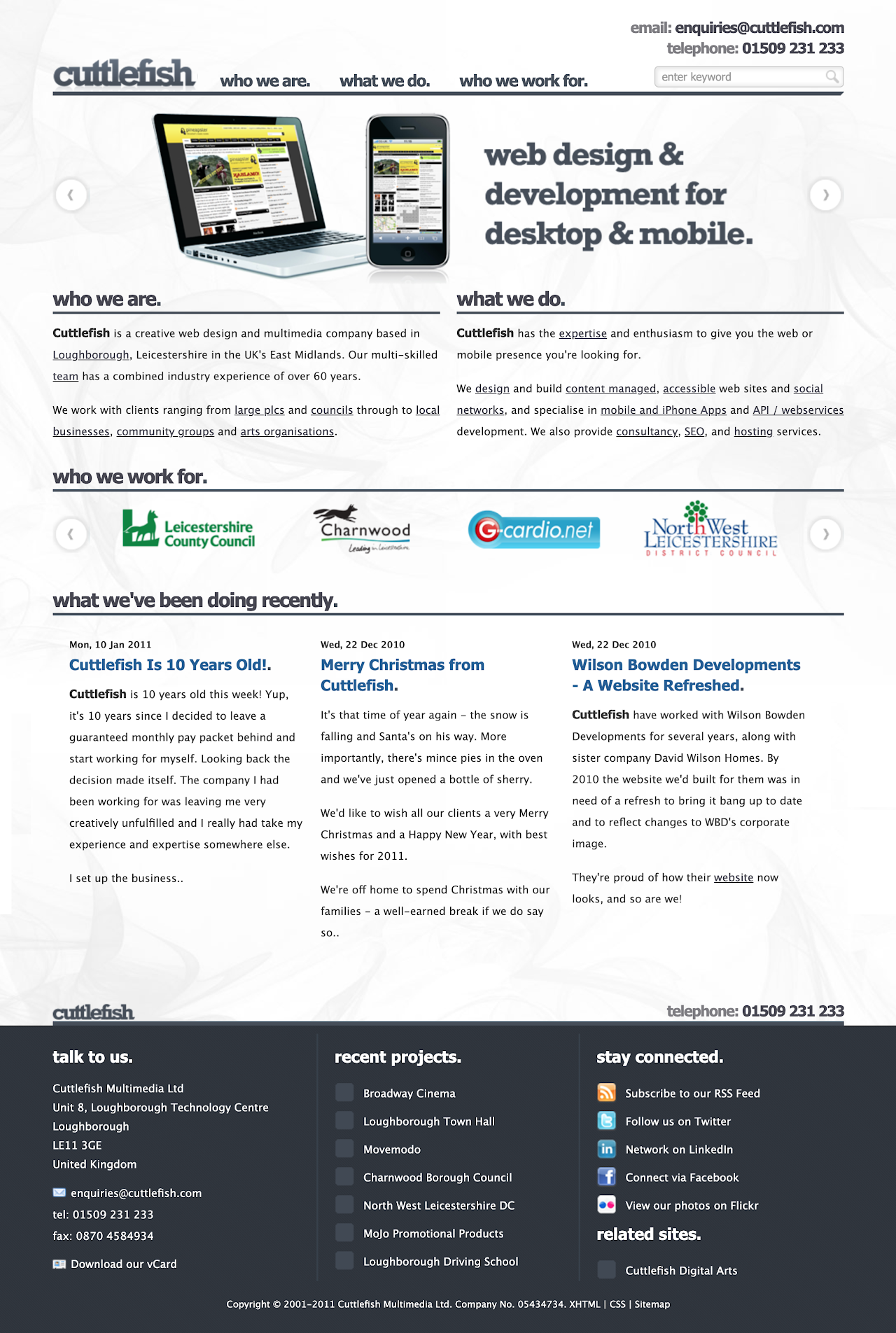 2010 saw a fresh look for the Cuttlefish site. We were also promoting our mobile Internet skills. I had built our first iPhone app in 2009 - an interactive location-based sound app called "SoundMappr" - and could see that mobile internet was finally about to reach its potential. I had actually created my first mobile internet application around 10 years previously using the ill-fated "WAP" technology and had been experimenting with mobile internet ever since. It had taken the launch of the iPhone in 2007 to make things really happen on this front.
2012/13
The website had not changed significantly in terms of design, but our local authority work had been expanded even further. We had also created a highly-accessible website for the RNIB College in Loughborough (now Sense College) and were working with both Broadway Cinema in Nottingham and QUAD Cinema in Derby.
2015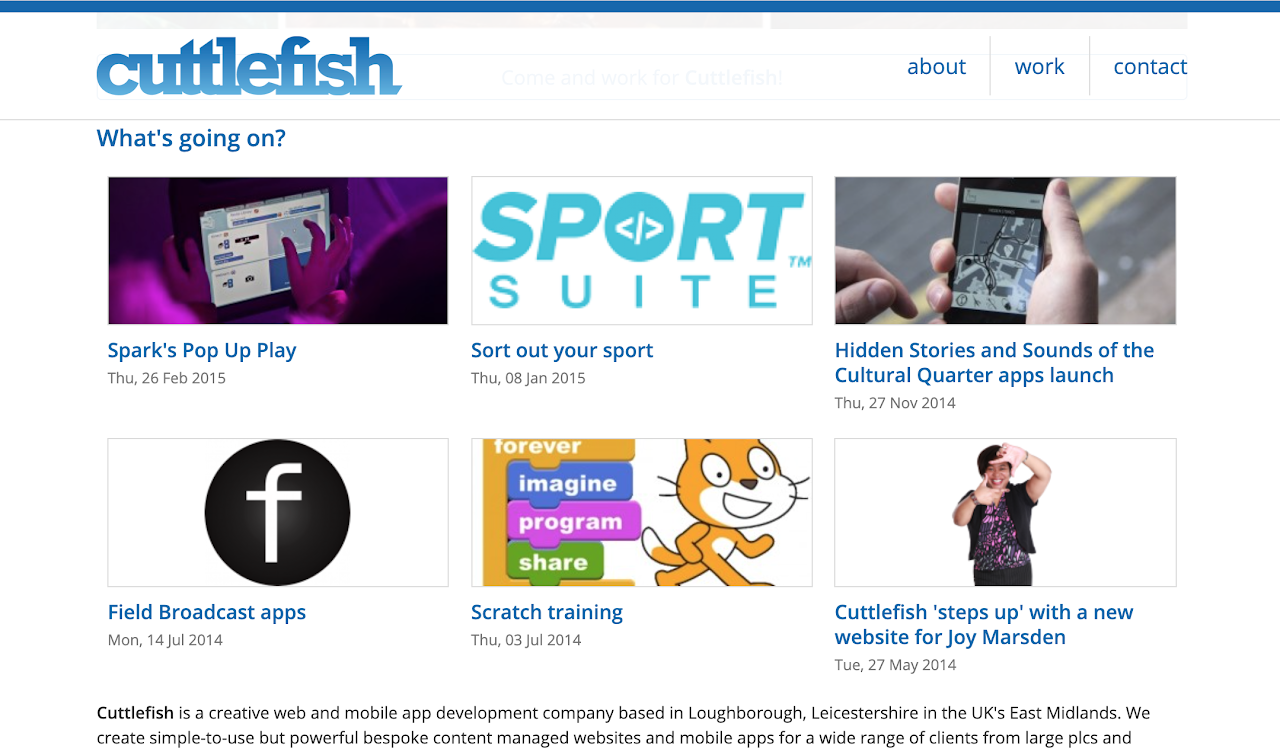 The Cuttlefish site (only the top shown) was getting quite 'minimal' at this point - largely down to us being very busy with paid work. A new shade of 'Cuttlefish Blue' had returned, but not much else changed in terms of design for a couple of years. We were successful in getting some good arts work at the time, such as the Hidden Stories and Sounds of the Cultural Quarter apps. This was allowing us to experiment with new technologies and produced some very innovative work.
Sports-related websites had become an important area of the business too, with our Sport Suite product being widely adopted by sports organisations around the country. Cuttlefish was reorganised soon after this image was grabbed, with a new director/shareholder and an experienced graphic designer brought in. The arts work was then moved over to Interact Digital Arts Ltd. This change encouraged me to apply for Arts Council England funding for the first time since an individual grant in 2005.
2016/17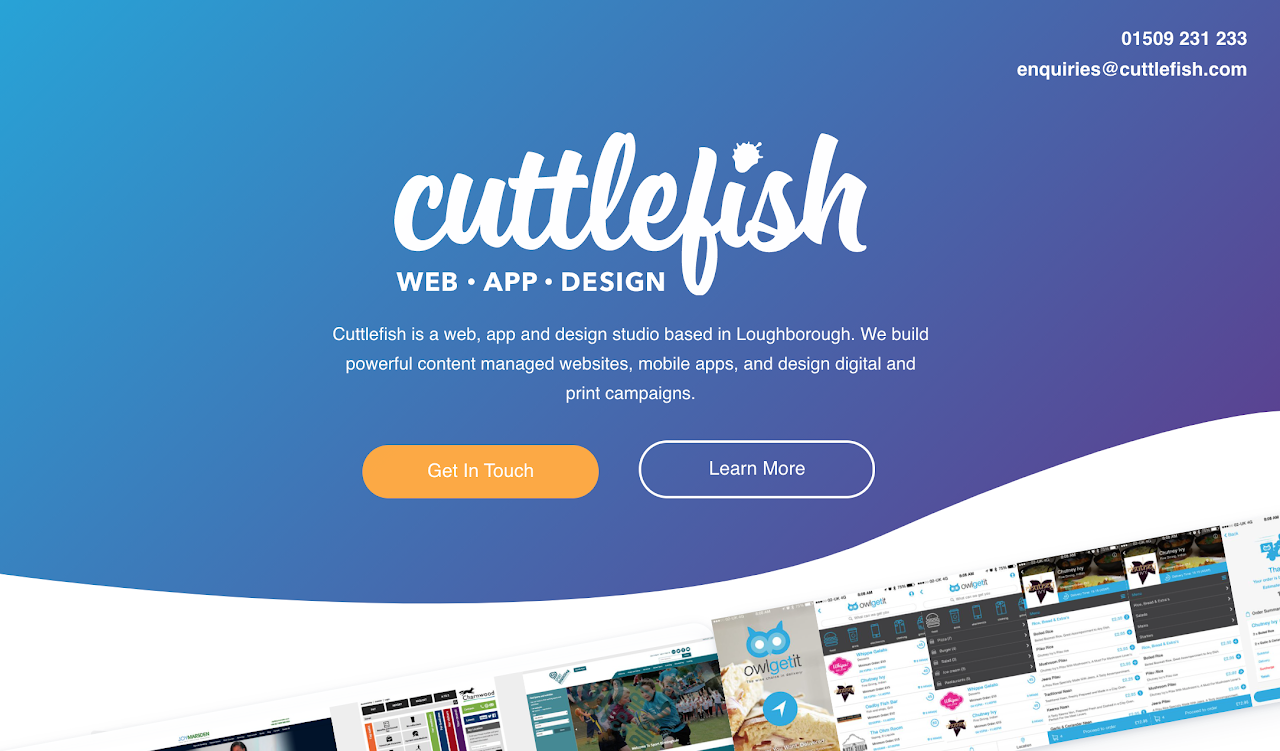 A full redesign at last! By 2016/17 the animated 'swoosh' and the Cuttlefish logotype with the 'splat' for the dot in the 'i' had been introduced and the business was giving equal billing to web design, app development and graphic design. This initiative was very much driven by the newer members of the Cuttlefish team and with its animations, responsive design and vector graphics the website had come a very long way from the monochrome website launched over twenty years previous.
To see how cuttlefish.com develops in the future visit cuttlefish.com
Sean Clark
June 2022